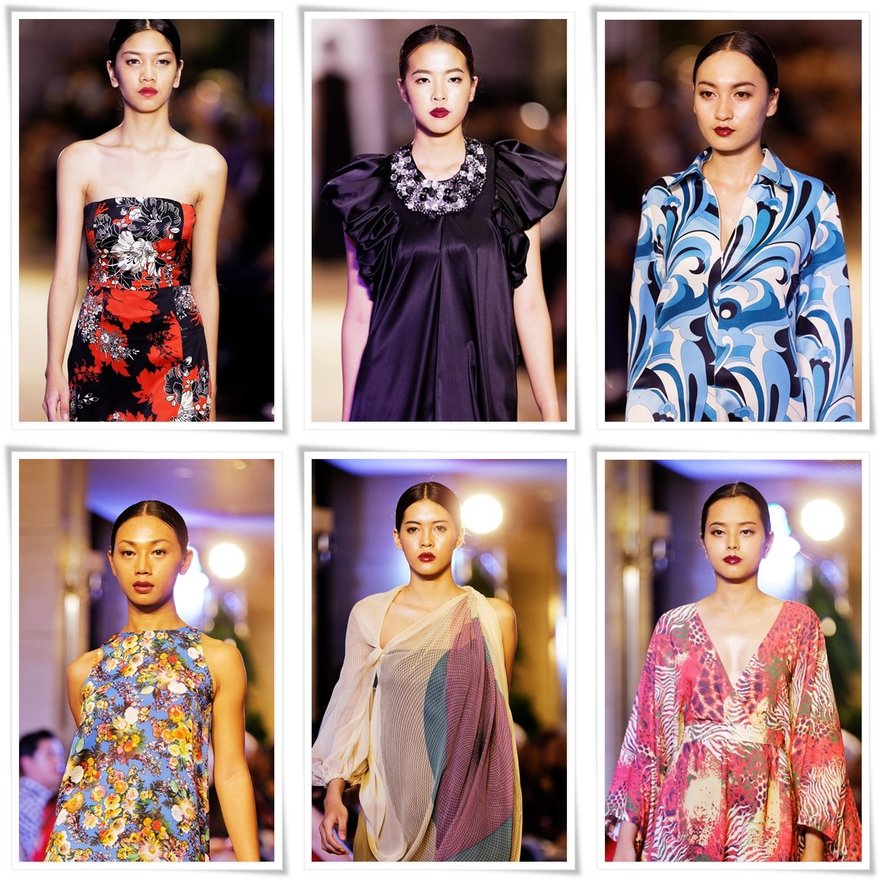 l
SHOWS
l
●
Very few names and monikers in the Asian Fashion Industry carry such weight and prominence as Hayden Ng (海登). A name synonymous with breath-taking innovation and sophisticated artistry.
在亚洲时装界,很少有名字和绰号能像海登(Hayden Ng)那样具有影响力和知名度。
Hayden has earned his place and risen to the epitome of the industry. This self-taught icon built his name and reputation from grass roots upwards since first emerging in the scene 3 decades ago, making him a popular name among celebrities, beauty pageant tittles holders and professional women. His boutique carries his line of elegant evening gowns and cocktail dresses.
海登赢得了自己的位置,并成为该行业的缩影。 自30年前首次出现以来,这个自学成才的偶像就从基层开始树立了自己的名字和声誉,这使他成为了名人,选美歌集冠名持有人和职业女性中的流行名字。 他的精品店里摆着优雅的晚礼服和鸡尾酒礼服。
Born in Singapore in 1966, Hayden started his career at a young age of 16 yrs. old. In 1987, he rose to acclaimed recognition when he dressed Miss Universe Singapore 1987, Marion Nicole Teo, who was selected into the Top ten that year. This was the turning point for the self- taught fashion designer, and later that year, at age 21, Hayden opened his fashion boutique
HAYDEN
当他为1987年新加坡环球小姐穿衣服的Marion Nicole Teo入选该年度前十名时,他获得了公认的认可。 这是自学成才的时装设计师的转折点,那年下半年,海登在21岁时开设了自己的时装精品店HAYDEN。
In 1988, Hayden showcased his designs in Australia, and in 1990, he represented Singapore in the Dalian Fashion Festival in China.
1988年,海登在澳大利亚展示了自己的设计,1990年,他代表新加坡参加了中国大连时装节。
In 1992, Hayden was introduced to the local theatre scene, where he evolved to costume designs.
在1992年,海登被介绍到当地的剧院舞台,在那里他演变为服装设计。
In 2001, he was appointed as the 1st Chief Costume Designer for Singapore's National Day Parade. Hayden worked on Singapore's National Day Parade from 2001 一 2003.
2001年,他被任命为新加坡国庆游行的第一位首席服装设计师。 海登从2001年至2003年参加新加坡的国庆游行。
In 2006, Hayden was nominated for the Straits Times' 6th
LIFE
! Theatre Awards for best costume designer. Hayden also designed the new ceremonial attire for the Singapore Disabled Athletes for the Far East and South Pacific Games for the Disabled 2006 (FESPIC) in Kuala Lumpur that year.
海登在2006年入选《海峡时报》第六届生活! 剧院奖最佳服装设计师。 海登还为当年在吉隆坡举行的2006年远东和南太平洋残疾人运动会(FESPIC)的新加坡残疾人运动员设计了新的礼仪装。
In 2009, Hayden returned to his beauty pageants roots, and dressed Miss Universe Singapore 2009, Rachel Kum, Miss Universe Singapore 2010, Tania Lim and Miss Universe Singapore 2011, Valerie Lim. In 2011, Hayden also designed the National Costume for Miss Universe Singapore 2011, and was rated as one of the 30 Gorgeous Miss Universe National Costumes that year.
2009年,海登回到选美大本营,并为2009年环球小姐,雷切尔·金,2010年环球小姐,Tania Lim和2011年环球小姐,Valerie Lim打扮。 在2011年,海顿还为2011年新加坡环球小姐设计了国家服装,并被评为当年30大环球小姐国家服装之一。
In 2015, Hayden contributed to the"SAF50 Commemorative Book, "Giving Strength to Our Nation: The
SAF
and Its People" with an article entitled Uniform 一 Fashion vs Function. The
SAF50
commemorative book, "Giving Strength To Our Nation: The
SAF
and Its People",is a collection of stories that celebrate the men and women of the Singapore Armed Forces (SAF), past and present, as well as those outside the military who have contributed to building a strong
SAF
over the years. The book was launched by Prime Minister Lee Hsien Loong on 24th July 2015.
2015年,Hayden撰写了题为《统一一时尚与功能》的文章,为《
SAF50
纪念册》《为国家提供力量:SAF及其人民》做出了贡献。
SAF50
纪念册"为国家提供力量:SAF及其人民"是一本故事集,旨在庆祝新加坡武装部队(SAF)过去和现在以及军队以外的人们 这些年来为建立强大的SAF做出了贡献的人。 该书由李显龙总理于2015年7月24日发行。
In September 2015, Hayden created the
ASEAN
Fashion Designers Showcase . This original showcase concept premiered in Singapore in April 2016, is a melting pot of various unique and carefully curated couture designs and ready to wear collections by established
ASEAN
designers.
2015年9月,海登创立了东盟时装设计师展示会。 这个最初的陈列柜概念于2016年4月在新加坡首次亮相,是各种独特且精心策划的高级定制设计的大熔炉,并由成名的东盟设计师随时准备收藏。
More than twenty designer apparels and accessories were donned by six models on the runway, of which included Shn Juay, Miss Earth 2006/Miss Universe Singapore 2011 2nd runner-up, May Hsu, Miss Singapore World 2011 and Singaporean Veteran Model Y.Y. Low, who elegantly opened the show.
平台上的六个模特穿着了20多个设计师服装和配饰,其中包括Shn Juay,2006年地球小姐/ 2011年新加坡环球小姐第二名,许美霞,2011年新加坡世界小姐和新加坡资深模特 Y.Y. Low,优雅地揭开了表演的序幕。
Built on the theme "Design is for everyone",fashion was brought to life in library@orchard, Singapore's award winning and only Design Library centred on lifestyle, design and the applied arts.
以"为每个人设计"为主题,时尚在新加坡屡获殊荣的library @ orchard变得栩栩如生,这是唯一以生活方式,设计和应用艺术为中心的设计图书馆。
Representing the best of Asian interpretations of haute couture and street fashion, this showcase celebrates the unique styles and diversity around the
ASEAN
region. The added feature of a pop-up store allows guests to try and buy the pieces as shown on the runway immediately, right after the show.
展示了亚洲对高级时装和街头时尚的最佳诠释,展示了东盟地区独特的风格和多样性。 快闪店的新增功能使客人可以在演出后立即尝试购买平台上所示的服装。
Through this platform, it promotes further cross cultural and creative collaboration while achieving mainstream regional awareness for fashion designers and models. It also hopes to nurture up-and-coming local fashion designers and models with the aim to foster a deeper understanding and appreciation of the fashion industry in the region.
通过这个平台,它可以促进跨文化和创意的进一步合作,同时使时装设计师和模特获得主流的区域意识。 它还希望培养有前途的本地时装设计师和模特,以期加深对该地区时装业的了解和欣赏。
In 2020, to keep the fashion industry alive in the midst of the
COVID
-19 pandemic period, Hayden founded and creatred the
ASEAN
International Digital Fashion Week. This platform allows fashion designers' fashion films, videos and runway shows has gone digital to aid both designers and creators.
2020 年,为了让时尚行业在
COVID
-19 大流行期间保持活力,海登创立并创建了东盟国际数字时装周。 该平台允许时装设计师的时装电影、视频和时装秀已经数字化,以帮助设计师和创作者。
●
On 10 November 2019, Silk Road International Fashion Week presented the Fashion Design Award to Hayden Ng, the Premier Founder of the
ASEAN
Fashion Designers Showcase and the
HAYDEN
brand, for his fashion design works.
2019年11月10日,丝绸之路国际时装周向他的时装设计作品颁发了时装设计奖,该奖项由东盟时装设计师展示厅和HAYDEN品牌的创始人海登(Hayden Ng)荣获。
●
Hayden also uses his fashion to contribute to charity works of various causes.
海登还利用自己的时尚为各种慈善事业做出贡献。
In 2009, he and Miss Universe Singapore 2009, Rachel Kum traveled to Sri Lanka to raise funds for the National Thalassaemia Centre Kurunegala.
2009年,他与2009年新加坡环球小姐一起,Rachel Kum前往斯里兰卡为库鲁内加拉国家地中海贫血中心募集资金。
In 2011, Hayden dressed all the female singers in
SING SING SING
Wonderful 80/ s -星 星 星 再献 80' s to raise funds for the Home Nursing Foundation.
2011年,海登为所有女歌手装扮成SING
SING SING
Wonderful 80 / s-星星星再献80年代,为家庭护理基金会筹集资金。
In 2012, Hayden, together with Courts and O'Connor & Friends, presented a charity fashion show featuring pageant title holders from Thailand, Malaysia and Singapore, to raise funds for Eden Centre for Adults and Eden Children's Centre, both under the care of Autism Association (Singapore).
2012年,Hayden与Courts和O'Connor&Friends共同举办了一场慈善时装秀,由来自泰国,马来西亚和新加坡的选美大赛冠军持有,以在自闭症的照顾下为伊甸园成人中心和伊甸园儿童中心筹集资金。两者均由新加坡自闭症协会负责。
●
The muse and inspiration for
HAYDEN
collections is Singapore City and her people 一 simple, individualistic and decidedly feminine with a modern approach to luxury (affordability and availability).
HAYDEN
collections are confident in its crafts, as each model is a special creation, the result of handcrafted ability mixed with innovation.
HAYDEN
系列的缪斯女神和灵感来自新加坡市,她的人们以一种简单,个性化和绝对女性化的方式,采用了现代的奢华方法(负担能力和实用性)。
HAYDEN
系列对自己的工艺充满信心,因为每个模型都是特殊的创作,这是手工能力与创新相结合的结果。
HAYDEN
collections distinguished themselves featuring products destined for a selected clientele of refined women, eager for fashion trends, but able to wear them with confidence and originality. Elegance, femininity and luxury are the key traits of the
HAYDEN
style.
HAYDEN
的产品系列突出特色,这些产品针对的是精挑细选女性的特定客户,他们渴望时尚潮流,但能够自信而独具匠心地穿着它们。 优雅,女性化和奢华是HAYDEN风格的关键特征。
HAYDEN
is a reference through a unique mix of creativity and exquisite craftsmanship.
HAYDEN
是通过创造性和精湛工艺的独特结合而获得的灵感。
HAYDEN
pieces are meant to last beyond a season, being conceived as a precious piece of jewellery, able to survive beyond a fashion trend.
HAYDEN
珠宝将延续一个季节,被认为是珍贵的珠宝,能够超越时尚潮流而生存。
HAYDEN
goes beyond the limits of a collection, being contemporary and fashion forward simultaneously.
HAYDEN
超越了系列的界限,同时兼具当代与时尚。
back